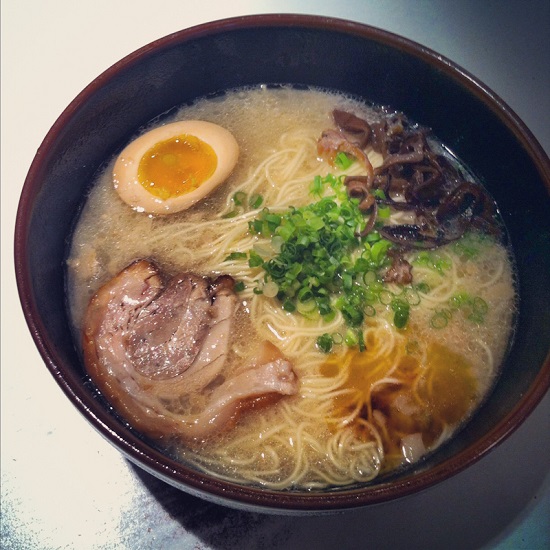 (Random Ramen Picture)
I accompanied my dad to Central Mall to get his RedMi phone fixed. Apparently, Gabe managed to somehow destroy the USB charging port of the phone.
Sidetrack: My dad quipped how short the queue was at the XiaoMi service center as compared to HTC. Perhaps the latter is more problematic?
So anyway, the XiaoMi staff said to come back to collect the phone after 2 hours. Repair charges, by the way, was waived. Thank you XiaoMi!
Looking at the watch, it was close to lunch time and we decided to just grab something to eat while we wait out the 2 hours.
At Central Mall, it was only natural we gravitated towards the ramen place.
We regretted it.
If I were to describe the ramen in one word, I would pick "lifeless". Seriously, I don't know what I was eating for SGD 14.00. The noodles was so boring that my tongue attempted suicide by jumping into the path of my chompers.
So now you know why I refrained from mentioning the name of the establishment. No difficult to guess. Happy sleuthing!
Then it got me thinking about this ramen hype where we pay 12 to 18 bucks for a meal in a soup bowl where back in Japan, it is an insert-coin-make-selection-ticket-to-counter-pick-up-noodles street food.
In the era of pre-Somerset ramen, there usual places were Liang Court and Central Mall. Now with big names like Ippudo coming into the saturated fray, it is getting kinda boring liao.
I tried Ippudo in Hong Kong. One word. Meh. I cannot fathom what the fuss was all about. It is just another glorified Ajisen.
In any case, allow me to be the first to sound the death knell of ramen fad in Singapore.
May it rest in peace with the rest of the fads like donuts, bubble tea and Portuguese egg tart.
p.s. llaollao froyo will be in the death notebook albeit slightly down the page.
Image Credit: http://thetastingbuds.com
- Voxeros