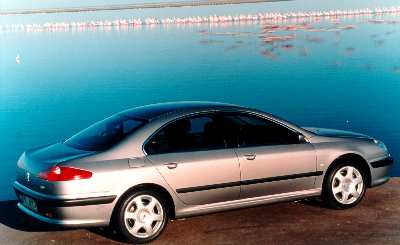 So here I am finally in Marseilles as I head to
pick up my rental car
.
Was it a Jag, a Merc, an Audi or a Beemer? Sadly, none of the above as I saw a Peugeot 607 greeting me at the carpark.
I is sian half.
Ok lah. Actually the car not bad lah. Very spacious lah. But I guess it was bad timing after just
having test drove the S65 AMG
a week before. Suddenly this car like damn sluggish
Again, I say that it is unfair to form such an opinion at this time. The 607 is quite the decent car lah.
Had a minor boo boo when I drove the car out. My hotel reservation was at
Best Western Bonneveine du Rhone
along the Marseilles coastline by the ports. Silly me keep thinking that my reservation was at
Best Western Marseilles Airport
which was only a minute's drive away. So as I drove up the highway and started to go further and further away from the airport, I started to panic a little thinking "
Where the hell is this stupid GPS Navi system taking me!!??
"
Then I realised that it was going the right way. My brain was going the wrong way.
Silly me.
Another boo boo was instead of selecting "
Calculate Fastest Route
", I backside itchy go and click "
Calculate Shortest Route
" which led me right into the evening traffic of Marseilles downtown. Traffic light after traffic light plus turning into all sorts of little alleys and lanes. Things got further aggravated on 2 counts.
1) There were a lot of road constructions going on resulting in detours and the onboard navi system having to recalculate an alternative route non-stop and
2) The navi system was very sluggish (must be running Microsoft Windows). I was at the road where I was supposed to turn already but the computer says I have 30m to go and hence time and again, I overshoot my turnings. Mercedes Benz navi-system definitely wins hands down in this category.
But ok lah, we have a scenic tour of Marseilles as a result. All is still good.
So, it's Marseilles for the layover before we start our jouney to our final destination in Malaucene the next day. A journey of 150km north from where we are. Hopefully the stupid navi-system don't give me any more shit.
Fingers crossed.
p.s. Click Map To Enlarge.
- Voxeros
1. Zhe Bin left...
Sunday, 14 May 2006 2:18 am
Will you see Fabien Barthez?
2. Sallie left...
Sunday, 14 May 2006 3:06 am
Hey, thanks for ringing and the text messages. :) sorry I was in Berlin and couldn't help you out there - glad it all worked out tho. take your time, enjoy the scenery - the weather's been really really great these past few days. slap on the SPF! :)
3. JayWalk left...
Sunday, 14 May 2006 5:20 am ::
ZheBin:
I am at the countryside. I doubt if Barthez would be there instead of focusing on preparation for the World Cup which I believed he is selected. No?
SALlie:
Great scenery indeed. Wait for my pictures!
4. aloe left...
Monday, 15 May 2006 10:08 am
Only GPS system? boh Map? never mind la... At least you get to see more of the local views and sceneries before moving onto your next stop. :) I always say "我们去兜风!" or "Let's go sight-seeing!" to my passengers or drivers when we get lost. Hehehehe! as long as we reach the destination, I think it's alright. :) Fingers crossed for you too.. :D
5. akk left...
Monday, 15 May 2006 10:38 am
Peugeot! *chuckle* very fitting to drive this car where u are. :)