It has started already. As d1ssident bloggers are slowly and quietly being weeded out by the gahmen and on a stealthy basis. One thing for sure, this is not a local thing. It is Grober. I know, I was there when the Ch1na gahmen locked me up at
Blogspot
back in 2001. I escaped and have been flying under the radar here at
Blog-City
.
Now we see it happening here. Looks like there is cooperation between the gahmens of the two countries. A mutal extradition treaty signed in the shadows?
In case you haven't noticed, there is a surge in the disappearance of our fellow bloggers in recent weeks.
AcidFrask is gone.
Bubblemunche
is gone.
Ahdokboy
has been detained in Tekong.
Sheena is missing since 24 May 2005.
*
Andy
is missing since 23 May 2005.
PacketMayonnaise
is missing since 16 May 2005.
FinickyFeline
was in exile in Penang but secret stowed back to Singapore (Sunday 3:56am) on a sampan under the cloak of night's darkness.
SillyCelly
left blogspot and is currently operating in an
undisclosed location
.
Minako is piggybacking on
several other people's blogs
coz she cannot blog on her own site for fear of blowing her own cover.
MailOrderBride
survived an assassination attempt (Viral Poisoning).
* Turned out that Sheena's missing was just a case of her being bladdy lazy to update her blog. All is well with her.
The list goes on. Send me the blogs whom you think have been cut down at the knees and I will add them as we go along.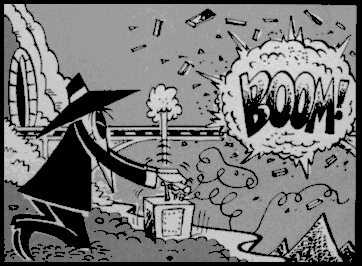 I also agree with
Jeff Yen
that
mrbrown
is a double-agent. He works for the gahmen and is planning a
Mega Lim Teh Session
in the guise of a Singapore Bloggers Con (SBC). For those who have lived long enough to this day, you would have remembered that "SBC" was the old name of a gahment-controlled agency. No?
SBC will be held in Woodlands for a reason. Those who attend the SBC are those that the gahment are unable to locate and as a result have yet to eliminate. It is a ploy to lure them out of hiding. Once
mrbrown
has gathered all the d1ssident bloggers in the building, he will blow up the building, killing every blogger in it. mrbrown will be a martyr.
Why Woodlands? Firstly, it has to be a ulu place so that less civilians will be around to witness the massacre, which secondly, allows the gahmen to easily blame their northern neighbours for the attrocity, by forging false eyewitness accounts of hooded men swimming ashore from the north just hours before the tragedy.
You have been warned.
For those who just don't get it. Read below in white:
It is a bladdy joke lah. It is fiction! Not real! Made up! Talk cock! Don't invite me to go lim teh hor? Please??!!

Technorati Tag:
sgblogconspiracy
- Voxeros
1. a reader left...
Friday, 3 June 2005 9:34 pm
SBC is also held there for another reason - Mega Lim Teh Session will can allow the authorities to quickly swoop down on the whole lot of us, then quickly transfer us to the IMH, citing that "sabotaged water sources" resulted in the whole lot of us going "mad", and the bloggers are being held at the IMH for "extensive pyschological treatment and re-education". holding SBC at Woodlands merely makes the planning of logistics for the sweep operation easier.
ROTFL ;-)
phelan
2. JayWalk left...
Saturday, 4 June 2005 3:10 am
I still think blowing up the building would have been easier.
That way they don't have to feed us in IMH.
ROTFL
3. a reader left...
Saturday, 4 June 2005 4:42 am
haha, i'm safe where i am, based on your theory.
anna
4. JayWalk left...
Saturday, 4 June 2005 10:59 am
Anna: It very depends on where you are right?
If you are where you claimed to be, then you are safe, given all the S1llypore dissidents are all there.
If you are in Novena, then sorry babe, they are probably staking out your apartment while eating chicken rice downstairs. Or beef horfun, or murtabak or lor mee .... arrgghh... why all the good stuff in Novena??!! *hungry*
5. a reader left...
Sunday, 5 June 2005 2:16 am
ahahha jaywalk...that is hilarious.
But on a more serious note, I think I may have seen bubblemunche's body during my 24km route march.
Hmm.
ahdokboy
6. JayWalk left...
Sunday, 5 June 2005 10:12 am
Ahdokboy: Alamak... got take picture or not?
Back then, we were lucky to have our 24km route march canceled coz 2 elephants swam ashore from JB and we were all confined to camp.
God bless 'em jumbos!!
7. a reader left...
Monday, 6 June 2005 5:46 pm
why r u calling Woodlands an "ulu" place har??? its very "happening" ok ... dun believe ? attend the SBC and u'll see how state-of-the-art the library and other amenities in Wlds are....
shsuya
8. JayWalk left...
Tuesday, 7 June 2005 12:32 pm ::
shsuya: Not say I say one hor. Tommorrow.sg say Woodlands ulu one.
http://tomorrow.sg/archives/2005/05/31/singapore_bloggers_convention_20.html