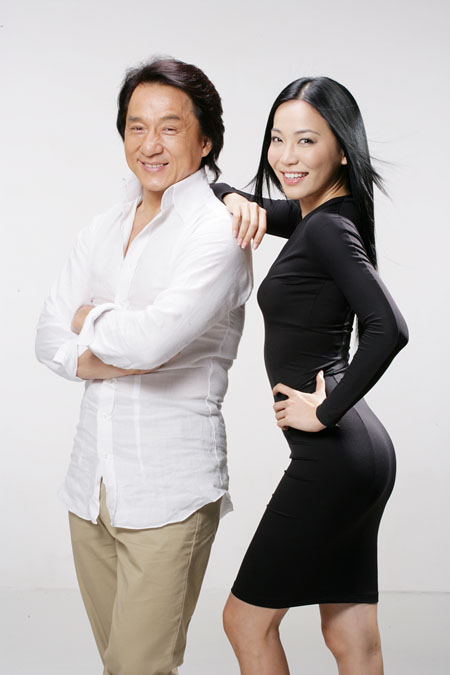 I was watching the morning news on the telly when I caught this TVC. This is the sequel to an earlier Ch1nese herbal shampoo TVC, of which they got Jackie Chan to be the spokesperson.
I loved the way Jackie Chan presented himself in the spot as he said that he will not do an ad for a product that he has not tried nor believed. The TVC was done as if it was a behind-the-scene documentary where Jackie Chan was being interviewed in between takes, which of course in this case was the TVC itself. I like that way he said that he discussed with the director to take the shot as is i.e. without post editing to make his hair blacker, shinier and none of that slow motion swinging/flowing of the hair as we so commonly see in other shampoo TVCs. Then he went on to ruffled up his hair with his fingers into a messy head.
Nice touch.
Still, it was after all a paid advertorial and as such, no matter how Jackie Chan gushed over the product in the quasi-unplugged-documentary-like-ad, a big pinch of salt is recommended.
The sequel featured a drink tea setting with this girl in black (above) with Jackie Chan. Somewhere in the dialogue, it was revealed that she is an actress from Singapore.
When you are in a foreign land long enough, there are certain keywords that would trigger your brain and perk your ears when you hear it. Understandably,
"新加坡"
was one of them.
I did a bit of sleuthing on the internet and initially, I thought that was Phyllis Quek. But (1) she doesn't look like the Phyllis Quek that I remembered and (2) where's the forehead mole?
Further digging around the internet and it was eventually discovered that the girl is Irene Ong.
Question: Who is Irene Ong?
Man... I've been away for way too long already. :(
p.s. I tried locating the youtube for the commercial clips but to no avail. Anyone have better luck?
Image Credit:http://photocdn.sohu.com
- Voxeros
1. thiang left...
I've never really like Jackie Chan. He's too... attention-seeking (or so it seems) and thinks he's really better than other celebrities.
You don't know who's Irene? Ong Ai Leng! I only recognize her from one of the drama serial coz' I thought she was pretty and her acting ain't bad.
Heh, just my two cents worth.
2. cakie left...
Monday, 21 July 2008 10:06 am
she was touted as the next fann wong but donno why not famous leh. fizzled out after a while.
can buy one bottle for me. i think i need WAKKAKAKAKA
3. Ruok left...
Monday, 21 July 2008 10:21 am
yup, thats Ai Leng. ;)
4. rn left...
Irene Ong - Ai Leng Ong - Bad pronouciation of her name and/or the convenient westernisation of her name (Anyone remember Sky Wu?) anyways I remember she once said that she really would want to do a shampoo ad, that's why she kept her hair.
5. JayWalk left...
Monday, 21 July 2008 1:46 pm ::
Thiang:
I am ok with Jackie Chan for his very down-to-earth attitude towards his fans. None of that stuck up prima donna shite.
cakie:
I will bring you a sample sachet lah. It's been told that the shampoo is not for everyone as there were cases of allergy to the Ch1nese herbs.
ruok:
One of your TV rape victims?
RN:
Well apparently shampoo ad girls usually do very well. Reminds me of the Kao shampoo girl during the 80s. What was her name?
6. Posh left...
Monday, 21 July 2008 2:44 pm
i dont like irene ong, never did! eeyeeerrrrr......
7. fitti left...
Monday, 21 July 2008 6:16 pm
This Zhang Ailing is a real beauty. Seen her before. Beautiful legs she's got but dunno why not very famous. Born in 1977 so can also be your XMM. Heh.
8. JayWalk left...
Monday, 21 July 2008 6:37 pm ::
Posh:
I can't comment much coz I haven't a clue who she is.
Fitti:
I think Ong = Wang and not Zhang. But anyway, yeah. She'd make a nice JW xmm too. :)
9. Linny. left...
Soo curvy! *jehluz*
10. NNPC left...
Singapore also got sell this hair product
12. JayWalk left...
Monday, 21 July 2008 10:55 pm ::
Linny:
Don't jealous lah.... you also got potential what.
NNPC:
I wonder anyone tried it? It is said to be able to make your hair blacker. I like my hair with the tinge of brown though.
Passerby A:
Thanks for the link! Will check it out.
13. cakie left...
Tuesday, 22 July 2008 12:32 am
no need laaa but thanks for the thought. :)
i MIGHT try and get a bottle in singapore, but i donno. sometimes i think my grey hair makes me look wise and sagely. BAHAHAHHAHAHAHH
14. JayWalk left...
Tuesday, 22 July 2008 10:39 am ::
Cakie:
You got grey hair meh? I hardly noticed.
15. TTY left...
Tuesday, 22 July 2008 11:20 am
OMG! Cakie ish 白发魔女!
that standing picture of irene shows what a nice ASS to have while.......
16. JayWalk left...
Tuesday, 22 July 2008 2:14 pm ::
TTY:
It is rather curvy. That I concur.
17. fitti left...
Tuesday, 22 July 2008 4:10 pm
Yup, Wang Ailing is her name. My bad. And she is really beautiful in person.
18. Chocolate gal left...
Tuesday, 22 July 2008 10:24 pm
She is very pretty.. not famous cos in sg, u will need connections to be famous loh.. haha..
19. JayWalk left...
Tuesday, 22 July 2008 11:41 pm ::
Fitti:
How did you get to meet her in person? A friend of yours?
jaschocolate:
I wonder if in Singapore if you need to sleep your way to the top?
20. Vandalin left...
nice ass, nice legs. too bad i'm a boob man.
21. barffie left...
Thursday, 24 July 2008 4:57 pm
She's Malaysian leh.
22. JayWalk left...
Thursday, 24 July 2008 5:16 pm ::
Vandalin:
I on the other hand is a legs man. Unfortunately, most leggy girls have no boobs. So there's a trade off there.
Barffie:
Oh yah hor. But no matter lah. These days, we hardly make the distinction between singaporean and malaysian. *looks at cowboycaleb*