Well, we have come to the end of the Tuition Mini Series where we had
Karen
,
Clara
,
Philip
and
Mickey-D
so far. What better way to top it off with yours truly as a tuition kid myself.
I remembered doing exceptionally well in school that I was posted, the year after, to Sec 3B where I was to do Triple Science and Double Maths for O-Levels. Suddenly, I was thrown into a class with all the scholar-calibre people. Wah raoz.... confirm sure die damn ugly one.
Imagine the students in the class as a group of Gladiators ready to do battle in the arena. Imagine all of them fully equipped with RPG rockets, bazookas, Uzis, Berettas, light sabres(!) and fully protected with exo-armour.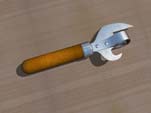 Now imagine me with just a paper hat and a can opener(!).
Yup, that's right. That was how I felt when standing side-by-side with these smart classmates fighting the lions in the Colosseum. Of which, one of them went on to become President's Scholar of my batch. Can opener and paper hat indeed!
I started the year in the worst possible way, I flunked Physics and A-Math on my first semester. My first ever
red
in my report book. I was totally devastated. I couldn't keep up with the pace of work in that class. That was when I decided that I need help and hence hired a tutor.
Andy came aboard when he was still in NS but clearing his ROD leave (ORD for the younger readers) and getting ready to start his NTI freshman year. He was a tall and lanky guy with a grip so tight that I will talk about it later. You could tell what 2½ years of NS has done to him. His manners and speech all reeks of army.
Andy:
So the answer to this problem will be 36.25,
WRONG!
36.23 m/s.
I almost jumped out of my chair when he did the
"WRONG!"
for the first time, which I later realised that was how you are supposed to talk in the army when communicating over the radio.
Even his method of teaching also quite robotic machiam army style, which in a strange way turned out to be quite effective and I was quick to grasp the topics.
Essentially he was a no-nonsense kinda guy and I made the mistake of being a smart-ass ala Eric Foreman in
That 70s Show
. Just as quick to my wit as was his hand around the back of my neck and the grip was so strong that I was gripped into submission in 2.2 seconds flat. I became the model, "super-cooperative" student ever since.
Then came the interesting part. He devised this little game during tuition. He would look up a challenging problem from the books and gave it a once-through to assess it.
Andy:
Hmm... this problem looks like it is worth 2 minutes.
Go!
The word "
Go!
" and a mad scramble for the pen and paper ensued, followed by mad scribbling while he counted down his black Casio digital watch which was the staple fashion of the army world.
So what do I get for beating the clock? Nothing.
So what do I get if I can't beat the clock? 20 push-ups!
Andy:
This problem is worth 2½ minutes.
Go!
* 2 minutes later *
Me:
Done! QED! Hah hah! I beat the clock!

Andy:
Go knock it down 20.
Me:
Why?
Andy:
Your answer wrong.
Me:
*Groan!*
It was tough in the beginning as I could end up as many as 300 push-ups each tuition session. However, it suited me perfectly as I was really into the
fitness craze
back then and I really find it a very interesting challenge.
Soon, I was getting the hang of things and was starting to do well. It fact, Andy was the one who introduced to me the studying of the so-called "
short cuts
" instead of "
bulldozing
" which obviously wasn't getting me anywhere. Then came the December holidays and we decided to work through it. The end result was that I completed the 10-year series for both physics and A-maths. Yes, I was ready to take the O-Levels for these two subjects even before I was to start Sec 4.
And so that kinda explain why I was the "expert" during the
MacDonald's tuition sessions
.
I literally breezed through the exams later that year, especially when it come to Physics, E-math and A-math. Just to give you an idea, I finished both Paper I and Paper IV of the A-math in under an hour each as I raised my hand to signal to the invigilator (Does Atomic Leow ring a bell?) of my intention to leave the exam hall, they thought I had given up on the paper. Hah!
Like my friend Loong (MeePok's classmate) said, "
KNN, si beh Cheng!
" or Wing (also MeePok's classmate) said, "
Nah beh, si beh ya ya papaya.
" Heh heh. Yes. I was quite the arrogant bastard in my younger days. Now no more already lah. Old man liao. Haiz... :(
Anyway, I did wanted to try the same push-up game with
Philip
but alas the lazy ass was too idle to even bat an eyelid to the suggestion. KNS!
- Voxeros


7. JayWalk left...
jaschocolate: What I also learned from all this is that each of us has got a different thing that motivates us to achieve our fullest potential.

Therefore, be it giving tuition or even leading your team at work, it is imperative to figure out what motivates this particular team member. Next thing to do is to keep pushing the button until the button spoil. Then and only then do you get the 110%.
Friday, 22 July 2005 5:20 pm ::