And speaking of
Ah Lim's Toyota Carina
, this trusty old rust bucket has served us very well, taking us out of the camp for dinners during our nights off as well as quick trip to the neighbouring Teck Whye for supper.
By default, Ah Lim was a popular guy in camp. I wonder why?
Anyway, there was this one particular evening when Ah Lim and a few of our buddies were rostered for guard duty that night. As I was one of the few guys in camp that Ah Lim trust with his car key, I asked for it that night since Ah Lim won't be using the car. In return, I have to buy back supper for our guys on duty that night.
So at book-out time, the four of us - Lex, AngMoh*, Liang and myself, drove the car out to Bukit Timah Shopping Centre for dinner and a movie.
Ah Lim was assigned to sentry duty's first shift at the camp's main gate. Recognising his own car and us in it, he waved us through without checking. After all, we is kar kee lang.
Everything went on pretty normally as we drove to Teck Whye zhi char stall to buy supper after we finished the movie.
AngMoh was holding the list of the guys' supper orders and as he took out the sheet of paper, he continued to fumble through his pockets?
Lex:
Eh AngMoh, what the f*ck you doing?
AngMoh:
Eh f*ck, I think I forgot to bring my camp pass out with me.
JayWalk:
Hong kan liao. Nah beh chao AngMoh! Everytime must throw one spanner then you song issit!??
AngMoh:
Ch**Bye lah... not purposely one lah! Eh like that how to go back camp? Now is third shift liao. Dunno who is guarding the gate now. Sekali is from other company one then I siao liao. How ah?
After much deliberation, we decided that the best solution is to hide AngMoh in the car's boot when we return to camp. By the way, did I mention that AngMoh was quite the big-sized bloke? We stuffed him in the boot with the packets of supper.
It was just a short drive from Teck Whye back to camp but I deliberately make it
M-U-C-H L-O-N-G-E-R
by driving in first and second gear only. To make matters worse, I deliberately drove very jerkily like a beginner driver would do on a manual-transmission car. I could have sworn I hear mutters of profanities coming from the back of the car.
After a while, I had another idea....
I slammed the brakes!
There was a loud thud and screams of
"KNNBCCB!!! DON"T PLAY LAH!!!"
For some strange reasons, I find Hokkien profanities coming from AngMoh particularly tickling.
Anyway, for what was thought to be a drive lasting an eternity, we finally reached our camp gate and it just so happened that the third shift sentry was also manned by our guys.
We did the formality of showing our camp passes and then took out the order sheet to figure out what they (the sentry guys at the gate) ordered for supper.
"ONE KWAY PNG!! ONE HONG KONG MEE!!!!"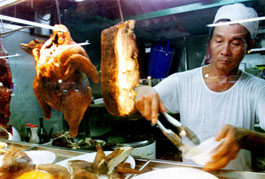 I screamed as I popped the boot opened.
Out came AngMoh who handed the supper to the two jaw-dropped bewildered sentry guards before climbing back into the boot.
We drove around the camp making our deliveries and the look on all their (our guard duty guys) faces each time we popped the boot was priceless!
* AngMoh is half Ch1nese and half Norwegian but decided to stay in Singapore and serve NS for his citizenship. Great guy. Damn jee siao kia also. His Hokkien/Singlish also damn tok kong. Hur hur hur....
Image Credit: http://www.d.umn.edu
- Voxeros
1. aloe left...
Tuesday, 28 March 2006 11:48 am
I like your this prank better than the jalan kayu mama shop one.... FUNNIER!!! hahahahahahah!!!!
2. JayWalk left...
Tuesday, 28 March 2006 12:32 pm ::
Anna:
You need to understand that it is the prank that chooses the prankster and not the other way round.
The prankster has to wait for the time, place and circumstance to align itself before the opportunity presents itself as a green light for execution.
3. winter left...
Wednesday, 29 March 2006 12:21 am
u damn funny
wah lao
bully people siah
EVURLLLLLLLLLLLLLLLL
4. JayWalk left...
winter: Hur hur hur.... this is EVURL? Wait till you read tomorrow's episode! And then the grand finalé on Friday!
Akan datang!
5. Zhe Bin left...
Wednesday, 29 March 2006 3:54 pm
Hahaha desperate situation calls for desperate measures!!
6. JayWalk left...
Zhe Bin: Let's the old ch1nese idiom goes, the kan cheong dog jumps over the wall.
Here something for you before you enter NS. As tough as the training maybe and as bad your army life may suck, there will be these little episodes of comedy throughout that would give you something to reminisce fondly.
7. kIm left...
Wednesday, 29 March 2006 9:53 pm
the piece of roasted meat looks kinda delicious.. muahaha..
Ay, at the end of the day, what is the conclusion? U is evil. Tsk. The poor guy so dua jia, you slam on the brakes some more! wah piang!
8. JayWalk left...
Thursday, 30 March 2006 12:22 am ::
kIm: Well, evil is one thing, I did get him back inside the camp didn't I?